[dropcap]I[/dropcap]t was an exciting atmosphere at the La Presby Senior High School as CEO of McDan Shipping Company, today [Tuesday], honored his promise by providing hundred desks to assist first year students who had been forced to sit on cement blocks due to the pressure brought on by the Free SHS policy.
According to McDan Shipping, the Tuesday morning delivery is the first batch of the entire package promised the school.
Citi FM has given the infrastructure deficit in senior high schools extensive coverage, prompting a pledge from the Education Ministry to make the necessary provisions to the needy schools.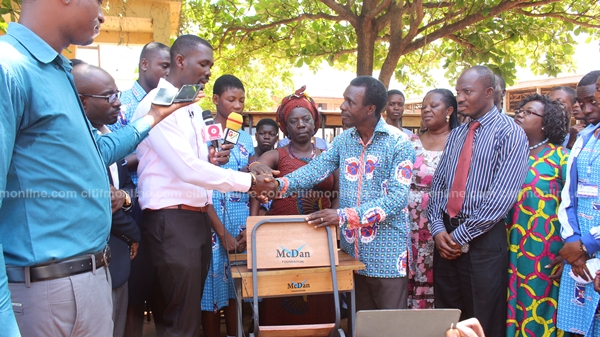 The school had already made headlines when its headteacher, who was subsequently interdicted by the Ghana Education Service, said first-year students under the Free SHS policy, had to pay GHc 80 for desks or risk standing during classes.
The La Presby first-year students were seen to be sitting on makeshift chairs comprising wooden planks supported by cement blocks.
The CEO of McDan Shipping, Daniel Makorley, subsequently visited the school and pledged to donate furniture to first-year classrooms.
READ ALSO: Free SHS will break SHS League – Bentil
As part of their celebrations upon receipt of the desks, the students were heard shouting appellations like "one man one seat, "no bore blocks", "our backs will rest" and "no more back pains again."